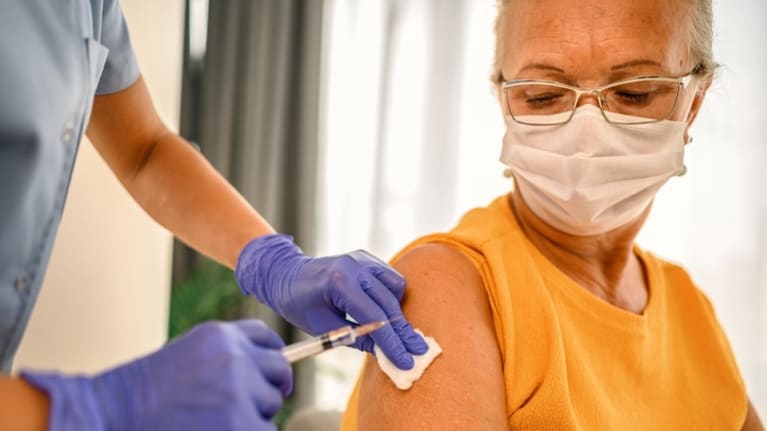 The Biden administration on Oct. 13 extended the COVID-19 public health emergency for an additional 90 days, keeping emergency measures in place through Jan. 11. The public health emergency was first declared in January 2020 and has been renewed every 90 days since, but some policy analysts thought the administration might allow the emergency declaration to lapse after President Joe Biden said "the pandemic is over" in a September interview with CBS's "60 Minutes."
Secretary of Health and Human Services (HHS) Xavier Becerra said he extended the health emergency "after consultation with public health officials as necessary."
The HHS secretary could terminate the public health emergency earlier than Jan. 11 or extend it again. Before the public health emergency expires, HHS has said it will give at least a 60-day notice.
Employer Coverage Implications
"This public health emergency declaration is important to group health plan sponsors because it determines the period during which group health plans and insurers must pay for COVID-19 tests (including certain over-the-counter tests) and related services without charging cost-sharing," according to a compliance alert by HR consultancy Segal.
Segal noted that nongrandfathered group health plans and insurers also must cover COVID-19 vaccines without cost-sharing both in and out of network. After the public health emergency expires, nongrandfathered plans may limit COVID-19 vaccine coverage to in-network providers.
The coverage requirements apply to payment through both medical plans and pharmacy benefits.
Self-insured employers should ensure that their health and pharmacy coverage meets all emergency-order requirements by conferring with their plans' third-party administrators. Fully insured employers should check that their insurance carriers are compliant with all current no-cost-sharing requirements.
Reimbursement Rate for Out-of-Network Providers
As long as the public health emergency is in place, when preventive services such as COVID-19 tests and vaccines are delivered by an out-of-network health care provider, employer plans must reimburse the provider a "reasonable amount," as determined in comparison to prevailing market rates for such services, Segal advised. Federal agencies have said they will consider the Medicare payment rates to be reasonable.
Costs Shifting to Employers
HHS announced on Aug. 30 that if Congress does not authorize additional funding, then "as early as January 2023, the administration anticipates no longer having federal funds to purchase or distribute vaccines." As a result, the government will transition vaccine payments to private health plans and insurers, similar to the treatment of seasonal flu or other vaccines, Segal reported.
Similarly, HHS said it expects to transition payment for oral antiviral COVID-19 medications, such as Paxlovid, to plans and insurers in mid-2023.
"Consequently, group health plan sponsors that cover COVID-19 vaccines and medications may see costs increase as the federal government transitions away from paying" these expenses, Segal said.
Additional Requirements
Other health plan requirements, most notably the requirement to extend certain deadlines related to COBRA, special enrollment, and claims and appeals, "are pegged to a different COVID-19 emergency declaration—the national emergency" that was declared in March 2020, Segal explained.
Earlier this year, Biden again extended the COVID-19 national emergency, which was set to expire on March 1, 2022.
According to Groom Law Group, plan administrators "should take care that they are calculating the deadlines correctly."
Keeping the national emergency in place, the attorneys said, means that the extended deadlines listed below were continued through February 2023 (or, if earlier, 60 days from the end of the national emergency):
FOR PLAN PARTICIPANTS:
COBRA qualifying event and disability extension notices. The 60-day deadline by which qualified beneficiaries must notify the plan of certain qualifying events (e.g., divorce or legal separation, a dependent child ceasing to be a dependent under the terms of the plan) or disability determination.
COBRA election. The extended 60-day deadline to elect COBRA continuation coverage.
COBRA premium payments. The 45-day (for the initial payment) and 30-day (for subsequent payments) deadlines to timely pay COBRA premiums.
HIPAA special enrollment period. The 30-day deadline (in some instances, 60-day) to request enrollment in a group health plan following a special enrollment event (i.e., birth, adoption or placement for adoption of a child, marriage, loss of other health coverage, or eligibility for a state premium assistance subsidy).
Benefit claims and appeals. The deadline under the plan by which participants may file a claim for benefits (under the terms of the plan) and the deadline for appealing an adverse benefit determination.
External review. The four-month period (for the federal external review process; this period could be different for a state external review process) for a claimant to file a request for external review.
Perfecting a request for external review. The four-month period (or 48-hour period following receipt of an incomplete request notification, if later) for a claimant to perfect an incomplete request for external review.
FOR PLAN ADMINISTRATORS:
COBRA election notice. The 14-day deadline (44 days where the employer is the plan administrator) for a plan administrator to provide a COBRA election notice to qualified beneficiaries.